What is going on with German writers/lecturers/bloggers and the Dalai Lama? Or would it be more accurate to say between certain fringe German writers and Buddhism? Are they really fringe, in fact, or just posing as fringe?
From the Trimondis'
Shadow of the Dalai Lama
to odd YouTube lectures (can't find my examples - will post - they are doozies) to frenzied anti-tantra blogs updated daily, there's just a very oddly disproportional German component, in my opinion, to the anti-Dalai Lama effort. Or to the anti-Buddhism effort, with the Dalai Lama as an easy bullseye.
I long ago discovered that the Trimondis (Mariana and Herbert Röttgen) are, at least in my version of reality, not to be taken seriously. But like Pravda in the heyday of the Soviet Union, it's not that there's no information to be gotten there - just that one has to spend a lot of time translating from Bizarre-ese to English. Perhaps that means this topic fits more into "art" than "writings."
So what on earth does
the following art/writing
really mean?
"There are nevertheless numerous occult rumors...that suggest [the Dalai Lama] to be the political director of the world who holds the strings from 'another dimension' in his hands. For example, there has been talk that the fall of the Berlin Wall was to be attributed to him. Among other things, the fact that at the exact point where the first break in the wall was created (a scene broadcast all around the world) there stood a graffiti reading
Long Live Dalai Lama
is offered as proof of this....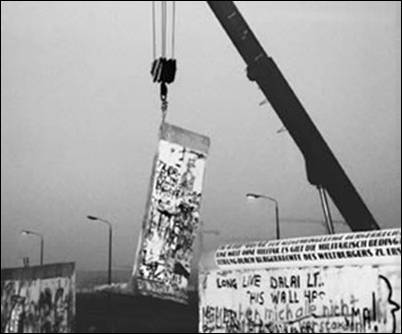 In fact, six months before the German reunification the Kundun had stood praying before the "wall of shame" with a candle in his hand....All were said to have been deeply moved by the presence of His Holiness. 'Only six months later, on 22 June 1990', writes Stephen Batchelor, "his prayer was answered when Checkpoint Charlie was 'solemnly dismounted'" (Stephen Batchelor, 1994, p. 378)."
The Röttgens move through the world largely as staunch Maoist rationalists - there's no way they believe the Dalai Lama 'holds the strings from another dimension.' Either that, or they aren't really the modernists they claim to be.
This is just a tiny snapshot of a strange world of mild-to-violent, subtle-to-overt anti-Dalai Lama (or anti-Buddhist) invective stemming from German sources today. The Röttgens of course are in turn the easy bullseye of this alleged German component. I've asked myself over and over again whether there really is such a component. But it's not as if there are Polish writers behaving this way, or Russian or Swiss - certainly not at the same levels, anyway. So I think the German component really is there; but why? Is it sheer happenstance?
Does the fact the current Pope is German, and a noted anti-Buddhist, simply mean that there will naturally be somewhat louder German rumblings?
"The Church's chief opponent in the 21st century will be not Marxism, but Buddhism." (Then-Cardinal Joseph Ratzinger, L'Express,
Le testament du Panzerkardinal
, 20.3.1997)
Though I believe largely in maintaining a positive focus, as opposed to spending too much time pushing back against negative minds, I have also seen how "fringe" writers have been able to slip disinformation into mainstream Western opinion, leaving us to find out months or years later we have casually believed something that is untrue. Many will never even realize it happened. This is a genuine danger--even if no particular issue to date concerns you, the fact that the mechanism is in place should. Perhaps a good image is not one of trying to fill bottomless pot-holes in the path, then, but at least posting signs.
I want to better understand the German component of this disinformation, with its double hammer of fact and fiction seemingly designed to chip away at the psyches of newer Buddhists and those considering the Buddhist path. I would be fascinated to hear others' observations on this issue. My last name is German, btw, so I'm not trying to pick on Germans in general ;)