If you had to choose, of course.
Mine is Red Dead Redemption. First off, I'd like to say that this game has really solid gameplay. The world is vast, utteraly huge (one of the biggest gameworlds I know of, really) and it is jam packed full of stuff to do. From bandits trying to hijack a train, to someone who has been thrown from their horse and is stranded out in the wilderness with a broken leg, to criminals shooting up a town, etc. And in every instance, you have a chance to help the innocent people in harm's way, or to join the outlaws in their plunder. Over time, your Fame will increase, and people will begin to respond to you based on your Honor. If you have been a true and good man, protective over the weak, you will find a warm welcome in many towns. People will treat you with a sense of politeness you will be hard pressed to find if you become an outlaw yourself. And it is interesting to hear the NPC's in towns carry on tall tales, and as you listen, over time, those tall tales will be about you.
The characters are for the most part, well developed. Especially the protagonist, who is my favorite video game character to date. You play the part of John Marston. Former outlaw who has been pressed into the service through the kidnapping of his family to kill or capture the members of his old gang. I can only describe John Marston as "constantly a little sad" even in moments in the game when he is smiling and joking, you can tell a part of him died a long time ago. This time of development in a character is hard to come across these days, especially in a video game. When you actually feel something for him.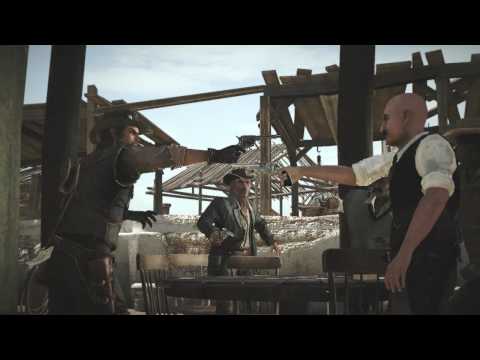 And holy cow the soundtrack. Easily one of the better ones I've heard. in major storyline moments in the game, they will often play a special song. I remember when John's trials are "over" and his family is released. He is far out in the wilderness, and all I remember is spurring my horse on till it nearly died from the strain of the run. blowing past bandit ambushes and packs of wolves, not even slowing down to pay them notice. The song is linked below