Firstly I'd like to say that this is in no means a thread meant to insult anyone or make fun of anyone's beliefs and practices. This is an exploration of attachment to views.
I think we can use this quote from Bhikkhu Bodhi to start out :
http://www.accesstoinsight.org/lib/authors/bodhi/bps-essay_25.html
"The Buddha's teaching repeatedly cautions us about the dangers in clinging — in clinging to possessions, clinging to pleasures, clinging to people, clinging to views. The Buddha sounds such words of warning because he discerns in clinging a potent cause of suffering, and he thus advises us that the price we must pay to arrive at the "far shore" of liberation is the relinquishment of every type of clinging. In a move that at first glance may even seem self-destructive on the part of a religious founder, the Buddha says that we should not cling even to his teachings, that even the wholesome principles of the Dhamma have to be treated like the makeshift raft used to carry us across the stream."
So, can you laugh at yourself? can you laugh at your religion, your most closely held beliefs? Lets do a test.
How about these pictures
http://lonniesmalley.com/wp-content/uploads/2011/12/not1.jpg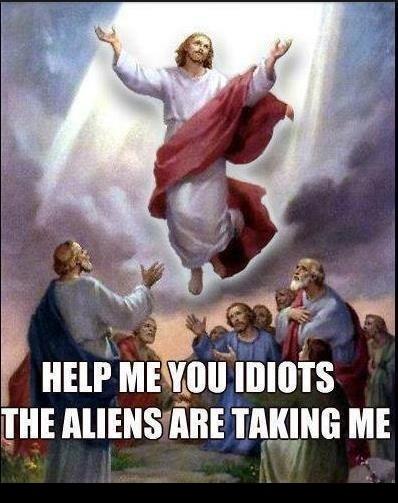 Offended... or more easy to laugh at? The internet is rife with things like this making fun of every aspect of Christianity. These both crack me the heck up, and you have to know some of the back story to understand the joke as it were. Many of us who grew up with this but don't identify with it strongly anymore could probably laugh easily at this.
Now how about this?
you know how hard it is to find de-motivational buddhist posters... no fun! haha
what about grumpy cat?
Well I guess these two buddhist ones aren't "blasphemous" enough.. but you get my point..
and how about some interfaith comedy?
I think this last picture says a lot. Show me a wise monk or guru you know that doesn't have a quick smile or laugh...
I'm not quite sure what makes someone be able to laugh at themselves and their beliefs/practices vs someone who takes it very seriously and is easily offended. I think it has something to do with how attached we are to our views, but I'm certainly no scholar or guru to be able to see it clearly at this time.
So what do you think it's about? and also if you find any funny buddhist pictures please post