Here is the case where a 16 years old girl from Thailand that has the similar voice and look from the queen of pop of asia Teresa Tang ( https://en.wikipedia.org/wiki/Teresa_Teng ) during the 70s and 80s that had passed away 20 years ago. She passed away in Thailand and her reincarnation is also from Thailand.
http://asiatrend.org/2015/09/17/believe-it-or-not-reincarnation-of-teresa-teng-鄧麗君
[extracted from article above...
The girl from Thailand named Vanatsaya Viseskul (LanggaLamu), not knowing any Mandarin, started to sing Teng's songs when she was seven. She told the judges at the "Voice of China" that she could sing after listening Teng's songs only two to three times. She learned 25 Teng's songs in one disc just in three months. In one of her interviews, she said she had a special feeling toward Teng whom she never met when she first listened to her song.
...]
Other info...
When LangaLamu was seven, her parents visited Hongkong and brougt back Teresa Teng's CD. She listen and said that those are her songs, and she had sung before. After listen to a song three times and can sing the song even she did not know any Chinese (mandarin) at that time. She told her parents. However, nobody believed her at that time. She did not learn to speak Mandarin until this year to join the "Voice of China" tv show. Her singing and talking sounds exactly like the Teresa Tang.
There are many singers that have similar voice as Teresa Tang, but in this case is a special one. Even Teresa Tang's former song writer/teacher took this girl in as his last disciple when he learned about this girl from Thailand. One of the singers, that has the closet voice as Teresa Teng's, had goosebump when she listen LanggaLamu sings.
Below is the youtube link video mixed the voice of the two together to see if one can tell how much the differences.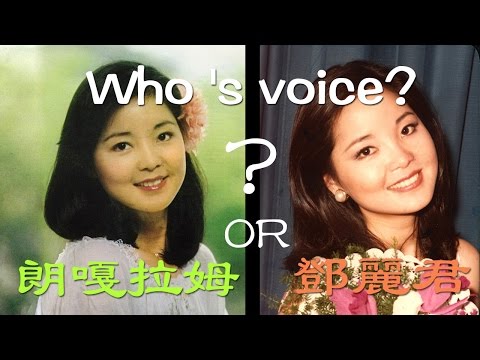 Believe in reincarnation or not !