Welcome home! Please contact
lincoln@newbuddhist.com
if you have any difficulty logging in or using the site.
New registrations
must be manually approved which may take up to 48 hours.
Can't log in?
Try clearing your browser's cookies.
Mantraing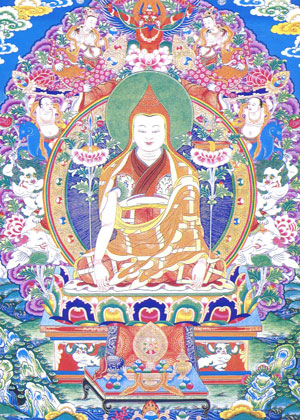 In Vajrayana in particular, mantra is a way to:
unfold a resonate dharma component
quiet internal monkey chatter
generate blessing, focus and perfectly right speech
Powerful practice.
Recently I tried but had forgotten the migtsema. Bad lobster!
http://www.lama-tsongkhapa.com/migtsema/
No worries it will soon be back in what I laughingly call my mind.
https://cundi.weebly.com/yidam.html
Here are my top tips for chanting be glad for your tips/experiences?
Start aloud, reduce the volume until quieter than a whisper. When ready no sound at all. Internal.
Mala not essential, timing/numbers not required BUT this can focus your practice initially.
Try to not mindless sleep chant. Yep still guilty of distractions at times
Migmey tzeway terchen chenray-zi
Drimey kyenpay wangpo jampel-yang
Dupung malu jomdzay sangway-dag
Gangchen kaypay tzug-gyen tzongkapa
Losang dragpay shabla solwa-deb